................crochet food
Now I love food, and you all know I love crochet, so what about crochet food? It is not the sort of crochet I am in to making, but the sort of crochet that I just LOVE to look at, admire and marvel over on good old Pinterest (I'm SallyStrawbs over there)
There are some seriously talented food crocheters out there, and these are a pic of my favourites.
Copacetic Crocheter- check out Norma's Etsy shop for patterns of all manners of crochet food. My favourite is the pasta collection shown below!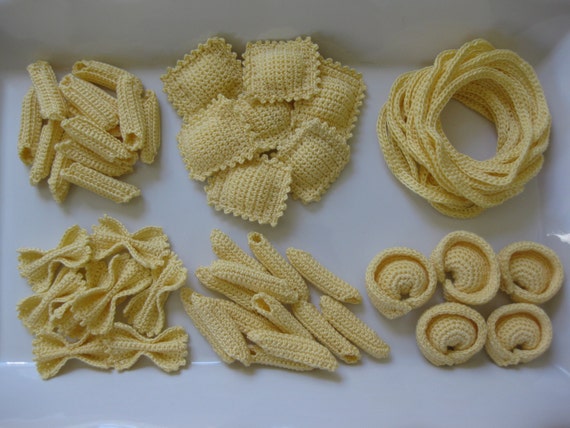 Twinkie Chan- the absolute queen of crochet food items.....hats, scarves, tissue box covers. You name it, she has done it! I have crocheted her cupcake hat and bunting and they were fab patterns to follow.
Cynthia Rae- check out Cynthia's Flickr site for a whole host of beautifully photographed crochet food. My favourite has to be this fried egg found on WhatTheCool along with other examples of Cynthia's work.
If you like deserts, check out THIS crochet banana split pattern by melbangel found on Etsy.
Last but not least, and flying the flag for British crochet food is Kate Jenkins. Kate Jenkins is a crochet genius from Brighton, whose frankly amazing crochet can be found all over the web. Check out Kate's website here, and more examples of her work here and here. Also check out her blog where she posts a 'Fishy Friday' photo every Friday, of a crochet fish item. They are magnificent so do have a look.
I hope you enjoyed some of these tasty crocheted treats. Have a great weekend!